Cities on the "Third Axis" plus 3
2016 Research report presented by the Information Strategy Office
This report compares global competitiveness of nine cities around the world including Fukuoka. Seattle, Vancouver, Melbourne, Munich, and Barcelona, which were already compared with Fukuoka in the 2014 research, are joined by Stockholm, Helsinki, and Busan this time.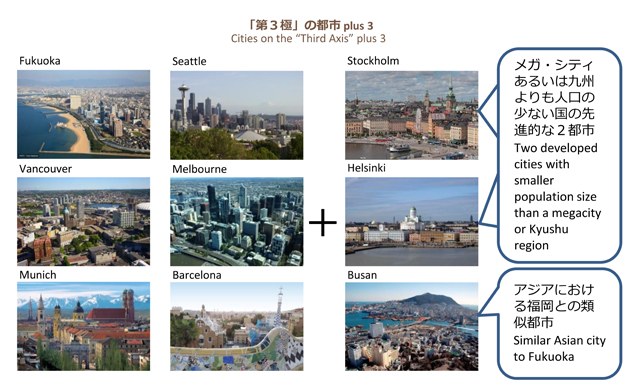 *Photo credits are listed at the bottom of this web page.
As a result of overall evaluation, Fukuoka acquired the similar score to the other cities in "Quality of Life," but the worst one in "Growth of City." Fukuoka needs to put more efforts in enhancing "Growth of City" as a global city, while maintaining the globally high "Quality of Life."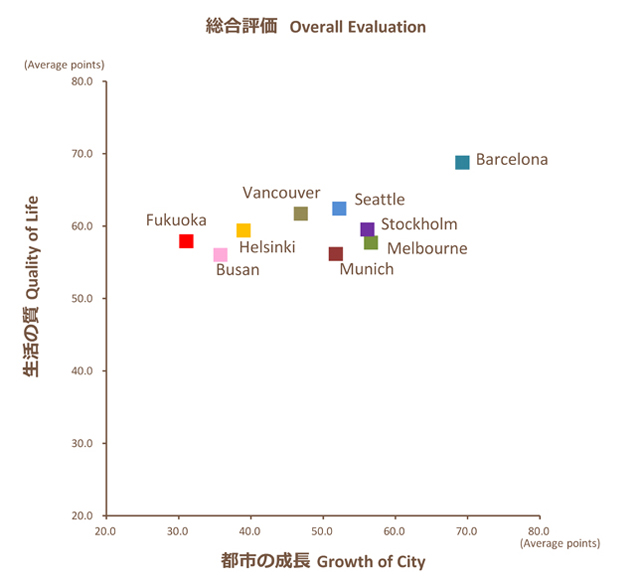 However, comparison among the six cities from the 2014 report in overall evaluation of 2014 and 2016 resulted in Fukuoka's highest growth of score recorded among the six.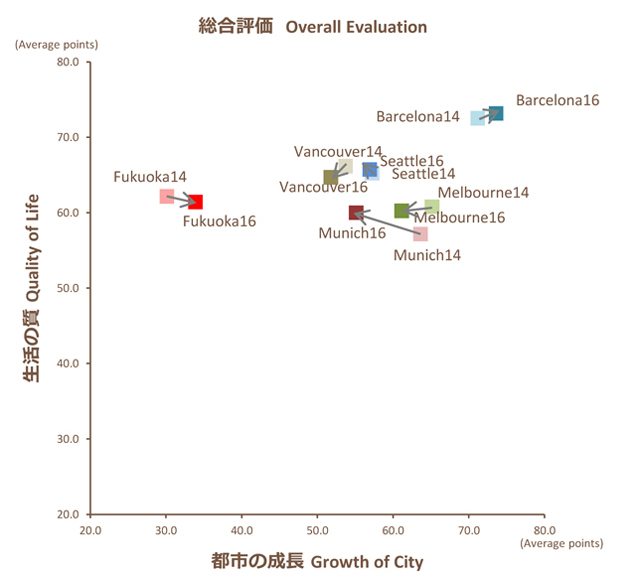 In the past two years, the index values of inbound system among the indicators of "Growth of City" in Fukuoka rose sharply. It can be attributed to the growth strategies of Fukuoka City since being designated as a "Special Zone for Global Startups and Job Creation" in 2014. In the future, it will be a new issue to raise the index value of outbound system by supporting further global development of Fukuoka's talents and companies.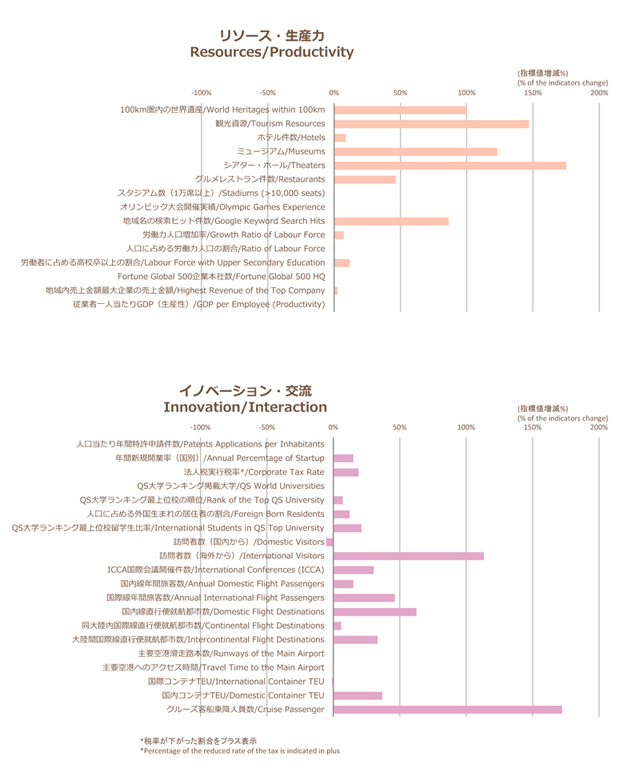 [Photo Credits] Fukuoka Provided by the City of Fukuoka. photo: Fumio Hashimoto; Vancouver By photo personnelle (photo personnelle prise en juillet 2006) [Public domain], via Wikimedia Commons; Melbourne By User:Bidgee (Own work) [CC BY-SA 3.0 (http://creativecommons.org/licenses/by-sa/3.0)], via Wikimedia Commons; Munich By Nr. 0711-2 Muenchner Panorama mit Blick auf die Alpen 4 Foto Rudolf Sterflinger; Stockholm By Benoît Derrier from Stockholm, Sweden (Stockholm) [CC BY-SA 2.0 (http://creativecommons.org/licenses/by-sa/2.0)], via Wikimedia Commons; Helsinki By Photograph by Mikko Paananen Modified by -Majestic- and Ilmari Karonen (Self-published work by Mikko Paananen) [GFDL (http://www.gnu.org/copyleft/fdl.html), CC-BY-SA-3.0 (http://creativecommons.org/licenses/by-sa/3.0/) or CC BY-SA 2.5-2.0-1.0 (http://creativecommons.org/licenses/by-sa/2.5-2.0-1.0)], via Wikimedia Commons; Busan By by lwy (http://flickr.com/photos/lwy/2198930983/) [CC BY 2.0 (http://creativecommons.org/licenses/by/2.0)], via Wikimedia Commons

Back Issues>> http://urc.or.jp/category/research_publication/publication/cities-on-the-third-axis-plus3?lang=en