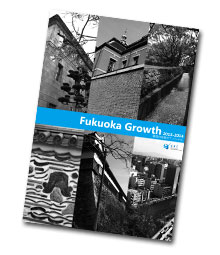 Download

(pdf/5.08MB)
Issued Date
● March 2014
Spec.
● in English & Japanese
● 116 pages / B5 paper size (182mm×257mm)
Authors
● Taichi GOTO
● Naohisa HATAKEYAMA
● Misato YAMADA
Data is the basis for planning.
No hypothesis or forecast can be established without logical grounds based on data analysis.
Data is related to various fields. To collect and analyze data is an important task.
In natural science, accumulated experimental data leads to new discoveries and evolution.
In business or policy making, a variety of data supports to build next strategies.
Data indicates "fact" at a certain point in time from a certain point of view.
In order to plan for the future of Fukuoka, it is important to analyze data from a variety of points of view and to prepare a more certain path for growth.
There is a variety set of data indicating the growth potential of Fukuoka city.

A series of reports "Fukuoka Growth" had been released twice a month between June 2013 and March 2014.
In each issue it will diagnose and discuss the future of Fukuoka city and people by analyzing data relevant to a selected theme.
We hope this series of reports will be informative for those who are considering to live, study, work, invest, and start a business in Fukuoka.
Print This Page