Information & Strategy Office
In severe financial conditions, many municipalities are attempting to focus on policies for the efficient and effective financial operation. What is the necessary policy for the social and economic development? Municipalities are also expected to engage in marketing.
'Information & Strategy Office' was set up in URC as an advisory team serving for Fukuoka City with a mission to contribute to the economic growth of Fukuoka City.
In daily operation, it collects and analyzes data and information, consults to city bureaus and the general public, builds up policy options and recommends priorities to support Mayor's decision making.
Positioning Fukuoka on the global map

Uncertain times ahead
– We are now living and working in the era of increasing uncertainty. In the last few decades the world has changed (and is changing today) by four key drivers; 1) internet (from 1.0 to 3.0), 2) explosion of world population, 3)advanced mobility of goods and people, and 4) energy revolution (from fossil to green).
– To survive and thrive in such an era of uncertainty, the following "nine principles" have been advocated by wise leaders including Kiyoshi Kurokawa: 1) Resilience, instead of Strength, 2) Risk, instead of Safety, 3)Systems, instead of Objects, 4) Compasses, instead of Maps, 5) Pull, instead of Push, 6) Practice, instead of Theory, 7)Disobedience, instead of Compliance, 8) Crowds, instead of Experts, 9) Learning, instead of EducationThe rise of regional economies
– Economic geography has also dramatically changed in the last few decades (and is changing today). While Thomas L. Friedman proposed "The world is flat" in 1999, Richard Florida argues that the world is not flat but rather spiky. Both seem true.
– Implications from these argument are that the world economy today is a network of urban regions, as Kenichi Omae argued in his book "The End of the Nation-State: the Rise of Regional Economies"
– Global talents and knowledge workers gather in urban regions (and in particular in the city centers). They become part of "ecosystem of innovation" which in turn accelerates sustainable growth of that region. As AnnaLee Saxenian pointed out, a region is a source of competitive advantage of businesses.

Positioning Fukuoka
– What is positioning of Fukuoka today and in the future on the global map?
– "Fukuoka Growth" provides with economic outlook of Fukuoka, aiming to be a basis for policy and economic dialogue among policy makers, business leaders and the general public. It looks into Fukuoka's strength and opportunities to help the region clearly position itself around its unique value for other regions in the world.
– We look forward to feedback from readers.

June 20, 2013
Taichi GOTO
Head of Information and Strategy Office
Fukuoka Asian Urban Research Center

Fukuoka Growth
Data is the basis for planning.
No hypothesis or forecast can be established without logical grounds based on data analysis.
Data is related to various fields. To collect and analyze data is an important task.
In natural science, accumulated experimental data leads to new discoveries and evolution.
In business or policy making, a variety of data supports to build next strategies.
Data indicates "fact" at a certain point in time from a certain point of view.
In order to plan for the future of Fukuoka, it is important to analyze data from a variety of points of view and to prepare a more certain path for growth.
There is a variety set of data indicating the growth potential of Fukuoka city.
A series of reports "Fukuoka Growth" is going to be released twice a month.
In each issue it will diagnose and discuss the future of Fukuoka city and people by analyzing data relevant to a selected theme.
We hope this series of reports will be informative for those who are considering to live, study, work, invest, and start a business in Fukuoka.
Fukuoka Growth 02 Engine of Regional Economy(11/07/2013 Version1.1)
Download English

(pdf/1.13MB)
Data
Population in Fukuoka city is projected to grow for next 20 years, which is nationally remarkable as population in Japan has been and will greatly decline. Although population declines in whole Kyushu region, concentration in Fukuoka city is expected to accelerate.While cities are driving the world economy, monopolar concentration into the capital city is still continued in Japan , exceptionally among developed countries. In order to enhance sustainability and resilience of the national economy, each metropolitan area in Japan needs to drive economic growth autonomously in original and creative ways and resultantly position itself in global economy. Also, the core city of the metropolitan area is expected to take a role of leading the surrounding area with a strong hub function and a control function.

Compared with Hokkaido region which is a provincial economic area located at the north tip of Japan , Kyushu has larger economic scale, higher industry accumulation, and a more diversified industry portfolio. With these economic activities and foundation, the Fukuoka city's economic activity majoring in service industry seems prospering.

Fukuoka city is expected to attract more people and investments by raising its presence in the world as a core city of Kyushu economic region.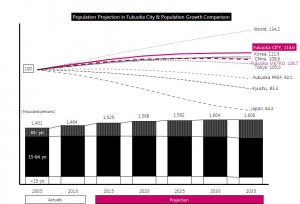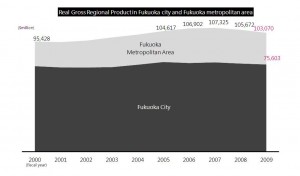 *Click on the figures to enlarge.