Report: Prospering City / Waning City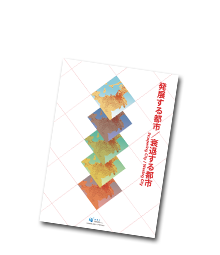 Download

(pdf/17.4MB)
Issued Date
● March 2016
Spec.
● Prospering and Waning scenarios for future Fukuoka in six areas: "Demography & Economy" "Industry & Productivity" "Startup & Innovation" "Talent & Diversity" "Interaction & Inbound" "Space & Mobility"
● in English and Japanese
● 158 pages / B5 paper size (182mm×257mm)
Authors
● Takayuki KUBO
● Yumi NAKAMURA
● Misato YAMADA
Prospering City / Waning City
2015 Research Report on "the Global Competitiveness of Fukuoka: A Proposal of Study Materials for Fukuoka City Vision Plan with Scenario Planning"
Local wane in Japan is becoming more serious as a result of the aging and decreasing population. Even in this situation, the population of Fukuoka is expected to continue to grow for the next 20 years, and it has been attracting attention as a vibrant and dynamic city in Japan. However, the working-age population of Fukuoka is already reaching a period of decline due to the falling birthrate, and if growth initiatives of the city continue to be neglected and left to this course, it is inevitable that the dynamic production of the city will gradually diminish. It is necessary to work on the achievement of measures by sharing challenges and discussing responses with people of all ages with a focus on today where initiatives, such as national strategic special zones, are a major momentum for Fukuoka, as well as changes in the future.
This study attempts to apply the framework of "scenario planning" and derive a sustainable development strategy for Fukuoka based on its global position in "quality of life" and "urban growth," which was outlined in the 2014 Research Report on Cities on the "Third Axis."
In the results of the analysis of the various conditions surrounding Fukuoka in this global climate, "responses to globalization" and "implementation of innovation" have emerged as key driving forces (KDF) to direct the prosperity or wane of Fukuoka in the future.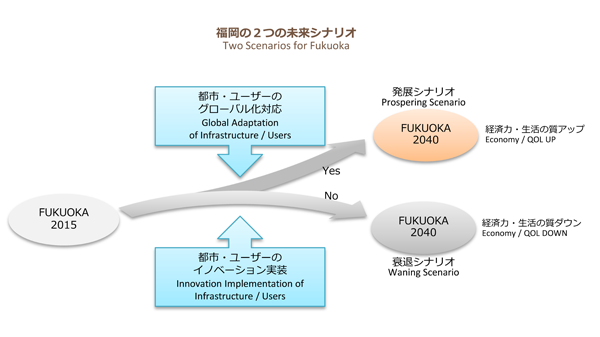 In response to these KDF, we have evoked scenarios for long-term prosperity or wane for Fukuoka in six areas that make up the city, depending on the potential of the entire city, including ourselves, to change. Each scenario is created as a platform to consider measures through backcasting to promote the prosperity of Fukuoka in the future and avoid the wane as a city.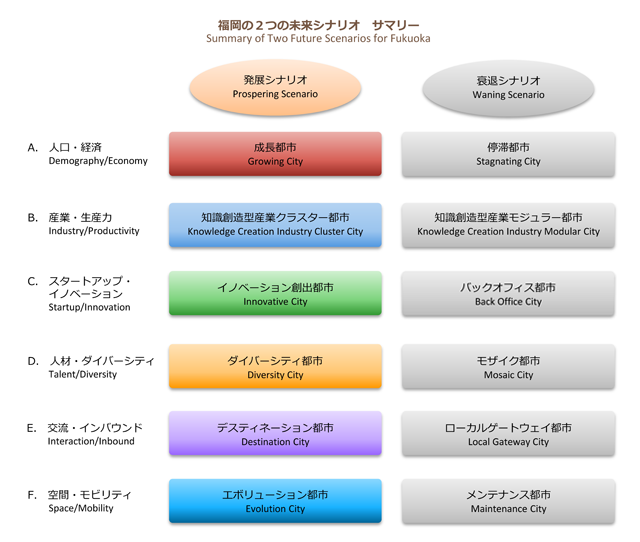 are developed through the ingenuity of urban users. From this perspective, it is preferable to derive a development strategy for Fukuoka from many urban users. As a litmus test, we set a place to gain feedback on the two scenarios from volunteers that had agreed to take part in this study and collected their ideas, which are listed in the last chapter.
*Click "Scenario" to view the details.