11. "Maintaining One's Way of Life in a Local Community One has Grown Accustomed to Until the End of One's Life"

[November 30, 2015] Fukuoka Growth 2015-2016 GlobalCityStatus リレーコラム
View this post in pdf

(769KB, Japanese)
Column 11. Maintaining One's Way of Life in a Local Community One has Grown Accustomed to Until the End of One's Life
(by Mitsuyo SHIROUZU, Researcher)
The graying of Japan's society is occurring at a pace never before seen in the world, and with the goal of maintaining the dignity of the elderly and supporting independent living, the government is working to create a system for providing local, comprehensive support and services (local comprehensive care system) by 2025 so that elderly can continue to live in the local community they have grown accustomed to and maintain their way of life as much as possible.
In order to do this, there must be a precise, prompt, and seamless exchange of information between not only service providers but also related parties, including users (the person himself and family). For example, if following care after the acute phase of a health problem (when the symptoms suddenly appear), a person needs to receive home nursing during the recovery period (when parties try to establish their daily routines), it is necessary to share information among various entities, including medical facilities that provide advance care, medical facilities in the area the person lives, nursing specialists, home nursing support facility operators, and patient (user) living support service providers.
With recent advances in information and communication technology (ICT), it is possible to develop new information sharing systems in the fields of nursing, medical care, and welfare, and throughout Japan, efforts are being made to develop systems that use ICT to efficiently share information among various organization.
Even Fukuoka City's Health and Welfare Bureau has been working to develop a Fukuoka City local comprehensive care information platform, the information infrastructure for a local comprehensive care system, through its three year plan that starts in 2015. The city is aiming to make use of ICT and share information among numerous related parties, including service providers and users.
The city will build its data infrastructure in FY2015, and at that time, the city will not only centralize various types of data, including statistical data and administrative data that will form the core of the information platform, but also organize and manage independent information possessed by various types of entities including nursing and medical ones. The city will steadily move forward with developing the platform and building the information infrastructure for a local comprehensive care system for Fukuoka City.
It is expected that when the Fukuoka City local comprehensive care information platform is fully operating, it will not only promote cooperation among related parties but also lead to the creation of a system to provide support and services, the objective of the local comprehensive care system, as a necessary information system to protect medical and nursing services providers (suppliers) and the safe and peaceful lives of local residents (users).
When developing this information system, ensuring security is vital. For the Fukuoka City local comprehensive care information platform, solutions to numerous issues are simultaneously being worked out, and these issues include protecting personal information, setting restrictions on data use and other conditions, and the scope of responsibility for using the data.
It is extremely important to make use of cutting-edge technology, such as this ICT, and safely and effectively provide advance services when developing society's response to the super grey society. It is hoped that the leading efforts to create a local comprehensive care information platform in Fukuoka City will result in a highly finished system that will be a model for other local governments.
11. 福岡市地域包括ケア情報プラットフォームの構築

~住み慣れた地域で自分らしい暮らしを人生の最期まで続けるために~
✔急速な高齢化に対応した高齢者の自立支援の体制づくりが急がれている
✔本人や家族と医療関係機関の情報共有をICTによって促進
✔福岡市地域包括ケア情報プラットフォームによる先進的なモデルシステム構築への期待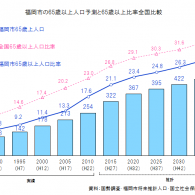 我が国の
高齢化は世界に類をみないスピードで進展
しており、国においては、2025年(平成37年)を目途に、高齢者の尊厳の保持と自立生活の支援の目的のもとで、可能な限り住み慣れた地域で、自分らしい暮らしを人生の最期まで続けることができるよう、地域の包括的な支援・サービス提供体制(「地域包括ケアシステム」)の構築を推進しています。
ここで重要となるのが、サービスの提供側だけでなく、当事者である本人・家族等利用者側も含めた関係者間の「正確で」「早く」「切れ目のない」情報のやりとりです。例えば、急性期(症状が急激に現れる時期)の治療(医療)終了後の回復期(日常生活動作の自立をはかっていく時期)で在宅医療介護を受けることになった場合、高度治療を行う医療機関、居住エリア内の医療機関、介護専門職、在宅介護支援施設事業者、患者(利用者)生活支援サービス事業者など、さまざまな機関等との情報共有が必要となります。
近年のICT(情報通信技術)の進展は、介護・医療、福祉分野においても、従来にはなかった情報共有の体制づくりを可能とし、さまざまな機関による効率的な情報の共有等を可能とするICTを活用したシステム構築の取組が全国的に進んでいます。
福岡市の保健福祉局でも、平成27年度から3か年計画で、「地域包括ケアシステム」の情報基盤となる福岡市地域包括ケア情報プラットフォームの構築に取組んでおり、ICTを活用し、支援側・利用者側を含めた多様な関係者間の情報共有の実現をめざしています。【図1参照】
2015年度(平成27年度)は、データに関する基盤構築整備の時期にあたり、情報プラットフォームのコア部分にあたる行政内部データや統計データ等の集約及び介護や医療などそれぞれの機関が保有する独自情報・データの整理と整備を行っているところです。今後も、順次プラットフォームの整備が進められ、福岡市における「地域包括ケアシステム」の情報基盤として構築されます。【図2参照】
福岡市地域包括ケア情報プラットフォームが本格的に運用されると、サービス提供側である医療・介護関係者だけでなく、利用者である地域住民の安全・安心な生活を守るために必要な情報システムとして、関係者間の連携が促進され、「地域包括ケアシステム」が目指す支援・サービス提供体制の確立につながるものと期待されます。
情報システムの構築に当たっては、セキュリティの確保が欠かせません。福岡市地域包括ケア情報プラットフォームでは、個人情報保護上の配慮や、データ利用上の制限等の条件整備、データ利用に対する責任の範囲等、様々な課題の解決も並行して進められています。
今後の超高齢社会への対応に当たっては、このようなICTなど最新技術を利活用し、高度なサービスを安全に、効率的に提供していくことが大変重要になります。福岡市における地域包括ケア情報プラットフォーム構築の先進的な取組が、他の自治体のモデルとなるような完成度の高いシステムとなることを期待しています。
Image is for illustration purposes only. (Photos are taken in Fukuoka City)