09. "Will Railroads be the Key to Fukuoka's Future Growth?"

[October 26, 2015] Fukuoka Growth 2015-2016 GlobalCityStatus リレーコラム
View this post in pdf

(668KB, Japanese)
Column 09. Will Railroads be the Key to Fukuoka's Future Growth?
(by Kouji SHIRAHAMA, Senior Researcher)
On last September 19 and October 3, Fukuoka City was the destination for NHK's popular TV program Bura Tamori (Roaming Tamori), in which the celebrity Tamori leisurely travels around areas throughout Japan and comes into contact with the history of cities and the lives of their residents. Many people probably watched these episodes because there was a lot of buzz about them before they were aired.
The topic of the October 3 episode was "Fukuoka and railroads—Were railroads the key to Fukuoka's growth?" While visiting railroad related historical sites and rail yards, the program looked at how Fukuoka, the third largest city on Kyushu after Kagoshima and Nagasaki when municipalities were introduced during the Meiji Period, merged with Hakata due to the launch of trolley service in 1910 and how Fukuoka became the largest one in Kyushu during the Taisho Period for various reasons including population growth along the Nishitetsu Tenjin Omuta Line after the service on the line was launched in 1924, and then overtaken by Kitakyushu City through the merger of five cities, but then once regained the top positon when the Sanyo Shinkansen was extended (1975).
The program also touched on the fact that railroads were not simply for transporting passengers, that Tenjin was the node where the Fukuhaku Denki Kido and Hakata Denki Kido lines intersected (currently the area around the Tenji Intersection), that in Hakata, the station was moved, the surrounding area was redeveloped, and for thirty-six years, it was the western terminus of the Shinkansen line, and that commerce and businesses have clustered in both areas up to present day because they were terminuses.
In the past, railways were the transportation lifeline for the nation and regions. It is without the doubt that railways were one of the main reasons for the growth of Fukuoka City, which possessed several train lines appropriate for the various types of transportation (intra-city, suburban, and intercity) and become a cluster for businesses and people as a result of being the terminus. At the end of the program, Tamori comes to deeply understand that railways were the key to Fukuoka's growth.
However, until the mid-1960s, the construction of railways in Japan was focused on laying lines for the transportation of goods—for northern Kyushu, coal—more than people. Service on many of the rail lines that extended like mesh was discontinued on account of the energy revolution and motorization.
In Fukuoka City and neighboring areas, service on various lines were discontinued, and these lines include Nishitetsu's Miyajidake Line (partially in 2007), Japan Freight Railway's Hakata Rinko Line (partially in 1998), Japanese National Railway's Katsuta Line (1985), Japanese National Railways' Chikuhi Line (partially in 1983), and Nishitetsu's Fukuoka Shinai Line (1979). There are various reasons why service on these lines were discontinued, but if service on these lines had continued until today, the shape of Fukuoka's development would have probably been different (more developed?).
For example, in Toyama City, Toyama Prefecture, the JR Toyamako Line, service on which was discontinued as the number of passengers fell, was replaced with light rail transit (LRT) in 2006, and as a result of efforts to improve convenience and service and develop the local area, the number of LRT passengers grew two or three fold compared to before the line opened. In addition, comprehensive steps, including measures to promote the use of trains—introducing a loop line in the city (2009) and undertaking a pilot program to invigorate the use of the JR Takayama Main Line (2006‒2011)—and various urban development projects, were taken, and it appears that efforts to reinvigorate the city center and boost the number of people living there are having an impact.
In this way, railroads are important tools for making cities more compact, but there are some segments of Fukuoka's train lines that get as crowded as trains in the greater Tokyo metropolitan area during peak commute time because it has been impossible to keep up with growth in the number of people living along the train lines.
Since the 2000s, there has been a trend toward people not owning cars (car sharing, etc.) and cities becoming more compact, and a series of tourism trains; Yufuin No Mori, which attracts many passengers from both in Japan and overseas [JR Kyushu]; Seven Stars in Kyushu, which has generated buzz as a luxurious "cruise" train [JR Kyushu]; and the Tabito and Suito [both operated by JR West]) have boosted demand for public transportation‒based on travel and helped dramatically increase the appeal of Fukuoka. With this in mind, now would probably be a good time to consider the most appropriate way to make use of public transportation (trains, etc.) and transportation nodes (terminals and hub) for Fukuoka, a comfortable growth city. (Reference: number of public transportation passengers for Fukuoka City)
Japan's first train ran between Shinbashi and Yokoyama on October 14, and this date has been designated Train Day. Various events are held by entities such as the Ministry of Land, Infrastructure, Transport and Tourism and railway companies in October to commemorate the date.
At least once, we all should think about the future of our Fukuoka and public transportation, such as trains, when we use them for various purposes such as for our daily commute, business trips, and travel.
09. これからの福岡発展のカギも鉄道にあり!?

~人の動きとまちの賑わいを創り出す大切なツールとして~
✔福岡が大きく発展した背景に、鉄道整備が大きな役割を果たした
✔快適で成長する都市・福岡の実現に向け、公共交通に関心を持ち、将来を考えよう

去る9月19日と10月3日、タレントのタモリさんが全国各地をブラブラ歩き、街の歴史や人々の暮らしに触れる、NHKの人気番組『ブラタモリ』で福岡市が舞台となりました。放映前から話題となり、ご覧になられた方も多いのではないでしょうか。
このうち10月3日の放送は、「福岡と鉄道~福岡発展のカギは「鉄道」にあり!?~」とのテーマで放送されました。鉄道関連の史跡や車両基地を巡りながら、明治時代の市政制定当初は鹿児島、長崎に次ぐ九州第3の都市だった福岡が、路面電車の開業(1910年)による福博一体化、また、西鉄大牟田線の開業(1924年)による沿線人口増などにより、大正期には九州最大の都市となり、一旦は5市合併した北九州市に抜かれるものの、山陽新幹線の延伸開業(1975年)を経て再び九州最大の都市となった、と振り返っていました。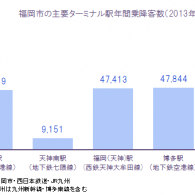 また、これも番組で触れていましたが、鉄道による旅客輸送だけではなく、天神では、福博電気軌道と博多電気軌道の2路線が交差し(現在の天神交差点付近)結節点となったこと、博多では、1963年の駅舎移転及び土地区画整理事業と、36年間にわたり新幹線の西の終点であったこと、そうした「ターミナル化(効果)」が、両地区の今日に至る商業・ビジネスの集積(図表1)の原点となっています。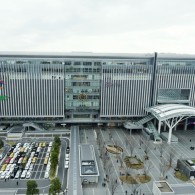 かつての鉄道は、全国/地域における交通の生命線でした。市内/郊外/都市間の輸送にそれぞれ適した路線を有し、また、ターミナル効果で人や企業の集積を高めた福岡市が、鉄道を背景の一つに大きく成長したことは間違いありません。番組の最後でタモリさんも「福岡発展のカギは鉄道にあった」と大いに納得した所以です。
しかしながら、日本の鉄道整備は昭和40年代まで、旅客輸送よりも貨物輸送、北部九州で言えば石炭輸送の観点から敷設された路線が多かったのです。網の目のように張り巡らされたそれらの路線は、エネルギー革命とモータリゼーションにより多くが廃線の運命を辿ります。
福岡市及び近郊では、西鉄 宮地岳線(一部、2007年)、JR貨物 博多臨港線(一部、1998年)、国鉄 勝田線(1985年)、国鉄 筑肥線(一部、1983年)、西鉄 福岡市内線(1979年)などが廃線となりました。廃止となった理由は様々ですが、もしも、これらの路線が現在も営業していれば、福岡の発展の姿が今とは異なるものとなっていた(一層発展していた?)かもしれません。
例えば、富山県富山市では、利用者減が続き廃線されたJR富山港線を2006年にLRT(Light Rail Transit)化し、利便性・サービスの向上や周辺のまちづくり促進に努めた結果、利用者数はLRT開業前の2~3倍に増えました。そのほか、市内電車の環状線事業化(2009年)、JR高山本線活性化社会実験(2006~11年)など鉄道の利活用促進施策と、様々なまちの整備事業を包括的に進め、中心市街地の活性化やまちなか居住回帰の効果が上がりつつあるそうです。
このように、コンパクトシティ化を進めるうえで重要なツールである鉄道ですが、一方で沿線人口の増大に対応が追いつかず、福岡の鉄道路線でも通勤ラッシュで首都圏並みの混雑度となっている区間もあるようです。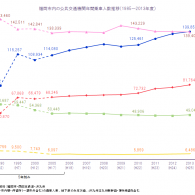 2000年代以降の自動車非所有化(シェアリング他)やコンパクトシティといったトレンド、また、国内外の多くの利用客で賑わう「ゆふいんの森」、豪華クルーズ列車として全国的に話題の「ななつ星in九州」(いずれもJR九州)、「旅人」「水都」(いずれも西日本鉄道)といった観光列車群が、公共交通による旅行需要の誘発、ひいては福岡の魅力向上にも大きく寄与している様を鑑みると、鉄道をはじめとする公共交通機関や交通結節点(ターミナル、ハブ)がどのようにあることが、快適かつ成長する都市・福岡に相応しいのかを考える時期にある気がします。(参考:福岡市の公共交通利用客数の推移)
日本最初の鉄道が新橋~横浜間を走った10月14日は「鉄道の日」とされ、10月にはそれを記念した国土交通省や鉄道事業者などによる様々なイベントが行われます(=九州レイルマンス(pdf/約916KB))。
日々の通勤・通学、あるいは出張・旅行などでの利用を通して、私たちの福岡と、鉄道をはじめとする公共交通機関の未来を一度考えてみませんか?
Image is for illustration purposes only. (Photos are taken in Fukuoka City; Photo in the article is provided by the City of Fukuoka [Fukuoka City Photo Gallery]