07. "Becoming a Fukuoka that Attracts Asians"

[September 30, 2015] Fukuoka Growth 2015-2016 GlobalCityStatus リレーコラム
View this post in pdf

(616KB, Japanese)
Column 07. Becoming a Fukuoka that Attracts Asians
(by Yumi NAKAMURA, Researcher)
Within Japan, there is growing interest in diversity—that is, the best way to create a society in which effective use can be made of diversity in human resources. For example, as discussed in "Diversity Management Selection 100" created by the Ministry of Economy, Trade and Industry, in term of workers, companies are taking on the challenge of working to create a system in which it is easy for various types of people (elderly, those with handicaps, women, foreigners, etc.) to work, make use of their individual traits, and fully demonstrate their abilities.
One of the reasons for this is because Japan is facing a major decline in its future working age population on account of a falling birthrate and graying of society, and a search is on for various ways to achieve growth in the future. It can be argued that under these conditions, there is a need to aggressively capture vitality from throughout the world, including human resources, by leveraging efforts to strengthen ties with countries and regions with which negotiations on economic partnership agreements are moving forward.
The question is to what extent Fukuoka City can incorporate that trend. If one focuses on the distinguishing aspects of Fukuoka City, the city has undertaken urban development by creating strong ties to Asia in terms of geography and economic activity. In recent years, there has also been a dramatic increase in the number of visitors to Japan that make use of the Port of Hakata and Fukuoka Airport, and a personality of a Fukuoka with strong ties to Asia is becoming evident.
Furthermore, there has been an upward trend in the number of non-Japanese residents in recent years. In addition to people from China and Korea, the number of people from Nepal and Vietnam has been growing since 2013. International students now make up 30% of non-Japanese residents, which means that mainly young people in their twenties and thirties are drawn to Japan, and this gives new life to Fukuoka, the home of many young people. From a long-term perspective, too, non-Japanese who live and work in Fukuoka are expected to be indispensable human resources for the future growth of Fukuoka City.
Fukuoka City is striving to become a universal city that respects diversity and is easy for everyone to live in. One way to achieve this is for Fukuoka to become a city in which people from other Asian countries who live in the city can contribute to the city. If Fukuoka can do that, it will probably not only evolve into a tolerant, attractive city in which the differences in the values of people from various countries and regions are accepted and intermingle but also become an innovative city with a prominent presence both in Japan and overseas.
As for the types of workers discussed previously, human resources from overseas are beginning to make active contributions, such as generating new ideas for companies they work at and playing key roles in cooperation between Japanese companies and their overseas offices. In Fukuoka City, it is hoped that promoting the Special Zone for Global Startups and Job Creation will transform the city into one that attracts more human resources from other Asian countries.
07.「アジア」の人々を惹きつけるFUKUOKAへ

―海外人材も活躍できるまちづくりを目指して―
✔少子高齢化が進む今、グローバルな活力を取り込むことが成長の鍵となっている
✔観光や留学など様々な目的を持ったアジア各国の人々が福岡市に集まってきている
✔アジアの人材を惹きつけ、様々な人達が活躍できるまちFUKUOKAへ
「ダイバーシティ」、すなわち人材の多様性を活かす社会の在り方について、国内で関心が高まってきています。例えば、経済産業省による「
ダイバーシティ経営企業100選
」で紹介されているように、「働き方」の面でも、高齢の方、障がい者、女性、外国人など、様々な人たちが働きやすく、個々の特性を活かし十分な能力を発揮できる仕組みをつくるべく、挑戦と努力が行われています。
背景の一つに、日本が、少子化と高齢化による将来的な生産年齢人口の大幅な減少に直面しており、今後の成長のために様々な方法を模索していることが挙げられます。そうした中で、経済連携協定交渉の進展に見られる各国・地域との繋がりの強化を梃子に、人材を含むグローバルな活力を積極的に取り込むことが求められているといえます。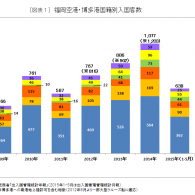 福岡市もこの流れをいかに取り込むのかが問われています。ここで、福岡市の特徴に注目すると、福岡市では、従来から「アジア」と地理的にも経済面でも強く結びつきながら、まちづくりが行われてきました。そして近年では、博多港や福岡空港を利用して福岡に来る外国籍の入国客数も大幅に増えてきており(図表1)、「アジアと繋がりの強い福岡」らしさが顕著に見られるようになってきています。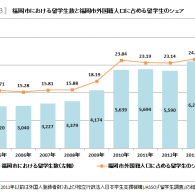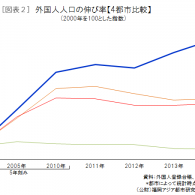 さらに、ここ数年、外国人人口が増加傾向にあります(図表2)。中国籍や韓国籍の人口に加えて、2013年以降はネパール籍やベトナム籍の人口が増えてきています。外国籍人口に占める留学生のシェアが30%に達しつつあるということからも(図表3)、概ね20代から30代という若い年代のアジアの人達を惹きつけており、若者人口の多い福岡に新たな活気が加わってきていることが分かります。長期的な視点からも、各国の人々が福岡に住み、働き手となってくれるなど、これからの福岡市の成長のためには欠かせない人材として期待されます。
いま、福岡市は、多様性を尊重しみんなが住みやすいまちである、「ユニバーサル都市・福岡」を目指しています。それを達成するための一つの取り組みとして、ここに集うアジアの人達も活躍できるまちを目指すことができれば、福岡市は、多種多様な国・地域の人々の、それぞれの価値観の違いを受け入れ交流する寛容性のある魅力的なまちへと進化し、国内外でも存在感を放つイノベーティブな都市になるでしょう。
先ほど挙げた「働き方」の面では、企業内に新たなアイデアをもたらすことや、国内企業の海外拠点との連携の鍵となるなど、海外人材の活躍が顕在化しつつあります。福岡市は「グローバル創業・雇用創出特区」を推進することで、より多くのアジアの人材を惹きつけるFUKUOKAへと発展することが期待されます。
Image is for illustration purposes only. (Photos are taken in Fukuoka City)