05. "Thoughts on Settling in Fukuoka City"

[August 17, 2015] Fukuoka Growth 2015-2016 GlobalCityStatus リレーコラム
View this post in pdf

(2.54MB, Japanese)
Column 05. Thoughts on Settling in Fukuoka City

— Creating a Society in Which One Can Choose the City They Live In —
(by Takayuki KUBO, Senior Researcher/ Director of Information Strategy Office)
Recently the mass media has often discussed the issue embodied in the keyword "settling (in a new place)." In the Greater Tokyo Graying Crisis Prevention Strategy proposed by the Japan Policy Council in June of this year, forty-one local communities throughout Japan that can provide medical and nursing services were listed as possible places for the elderly to settle in. After that, The promotion of the Japan Continuing Care and Retirement Community (CCRC) concept was included in the City, People, Job-Creation Basic Policy 2015 adopted by the government, and getting the elderly to settle in suburban areas is developing into a national policy.
"Settling (in a new area)" basically means that everything, except for a person's family, changes. In addition to, of course, a person's home and surrounding environment, a person starts over with a new community, work, school, friends, interests, etc. "Settling (in a new area)" requires substantial energy. It is probably extremely difficult to demand this of the elderly. If people are going to settle in new areas, it would be better to make that decision when they are young and full of energy.
Since the 2011 Great East Japan Earthquake, the mass media has often looked at people who have settled in Fukuoka. One of those people is the representative of Smart Design Associates Mr. Suga, who promotes the Fukuoka Migration Project while operating the shared office SALT for IT entrepreneurs. According to an interview with Mr. Suga in the personal blog SHOWCASE Fukuoka, "during about a two year period, more than 600 people have taken part in events put on through the Fukuoka Migration Project to get people to think about settling in the city, and about ten couples have decided to actually make the move." This figure, however, is probably just the tip of the iceberg. In this piece, I estimate the number of people who have left the greater Tokyo metropolitan area and settled in Fukuoka City since 2011.
First, let's figure out the change in the number of Japanese residents of Fukuoka City in 2014. During that year, 69,628 people moved into Fukuoka City while 62,170 moved out. This resulted in a net increase of 7,458 people. Looking at a breakdown of this number, the largest number of people who moved into Fukuoka City were from other cities in Fukuoka Prefecture, and the group with the next largest net inflow were people from other prefectures in Kyushu and Yamaguchi Prefecture. Another distinguishing feature is the large size of the net inflow of women. On the other hand, there tended to be a net outflow of people from Fukuoka to the three major metropolitan areas of Japan (Tokyo, Nagoya, and Osaka), and this was particularly true for Tokyo. In other words, there was a major inflow of people to Fukuoka City from areas of Kyushu but a gradual outflow of people from Fukuoka City, mainly to Tokyo.
Next, let's look at the number of people moving between Tokyo and Fukuoka City from 2005 through 2014 by age group. The net outflow from Fukuoka City to Tokyo was particularly large for people 15‒19 and 20‒24 years old. These are the ages when people enter university or start working. Furthermore, although small, there was a net inflow of people 55‒64 years old to Fukuoka City from Tokyo. This was the one age group for which there was a net inflow of people to Fukuoka City from Tokyo, and it is the age when people retire from their company. One can interpret this as the fact that many young people move from Fukuoka City to Tokyo to study at university or find work, and some people return after retiring.
As for the size of the net outflow of people from Fukuoka City to Tokyo, the number was 2,000‒3,000 people annually starting in 2005, fell to almost 0 in 2011, and then rose again through 2014. It appears that people temporarily returned to Fukuoka City because of the Great East Japan Earthquake but are now going back. However, comparing people who moved between Tokyo and Fukuoka City in 2010, before the earthquake, by age group with similar figures for 2011‒2014, reveals the following distinguishing characteristics. (1) There was almost no change for people 15‒24 years old; the earthquake had no discernible impact on people who were entering school or finding a job. (2) There was a net inflow to Fukuoka of people 0‒14 and 25‒44 years old, which is probably because families moved to and settled down in Fukuoka on account of the earthquake.
According to figures for 2011–2014, the additional almost 2,300 people who should have been living in Tokyo at the end of 2014 compared to 2010 are probably living in Fukuoka City. In 2015, there may be an increase in the number of people moving from Fukuoka City to Tokyo (that is, people returning to Tokyo from Fukuoka City), but there are sure to be a certain number of people who leave Tokyo and settle in Fukuoka City.
Fukuoka City has a large flow in its population. Comparing the percent increase and decrease in people during 2014 for the wards of Tokyo and government-designated cities reveals that for Fukuoka City, about 9% of the population either moved in (including those who changed residence in the city) or were born and around 8% of the population either moved out (including those who changed residence in the city) or died. This means that about 10% of our community was replaced during that one year. The reason for the large flow of the population is the large number of students. Each year, a large number of new college students come to Fukuoka, and many new college graduates leave Fukuoka. Furthermore, there is large changeover in the "transferee population," people working in branch offices or stores, which account for more than half of businesses in Fukuoka City.
In this way, a large number of Fukuoka City's population are mobile people from throughout Japan, including Tokyo, and an environment and mindset for accepting people from outside the area has developed. Therefore, there are probably many opportunities for these mobile people to settle in the area. In order for the current generation to settle in the area, however, they need to find work. A common issue for local communities throughout Japan is how to provide people who settle in the area with attractive employment opportunities.
Fukuoka City is probably at the difficult stage of creating a cycle in which building up attractive employment opportunities attracts outstanding human resources, and this accumulation of outstanding human resources then leads to more attractive employment opportunities. In Seattle, one of the top "third axis" cities, this cycle appears to have taken root as a business ecosystem on account of tech businesses, such as Microsoft and Amazon (See Jun Sato's Chihotoshi No Kasseika Ni Tsuite Shiatoru Kara Manabu (Learning about Revitalizing Regional Cities from Seattle) for details). When looking at population moves in both Seattle and King County (population of about 2 million), which forms the greater Seattle metropolitan area, there is a net inflow of people to King County from many U.S. states. In particular, there is a net inflow of people from New York State and the U. S. capital Washington DC, on the East Coast, and many people choose to live and work in Seattle
In order to transform the nascent trend among people currently working to settle in Fukuoka into a major movement like the one in Seattle, it is necessary for Fukuoka City to create its own unique ecosystem. It can be argued that Fukuoka City, which is promoting efforts related to the Special Zone for Global Startups and Job Creation, is exactly at that creation stage.
05. 福岡市への「移住」について考える
~住む都市を選択する社会へ
✔東日本大震災以降、首都東京から福岡市への「移住」が顕在化している
✔福岡市の人の「フロー」の多さは政令指定都市でトップ
✔「フロー」の人材を「移住」に導くためにはシアトルのような「エコシステム」が必要
最近、「移住」というキーワードがメディアで良く使われるようになりました。今年6月に
日本創生会議
が提言した「
東京圏高齢化危機回避戦略
」では、医療や介護の受け入れ機能が整っている全国の41地域が高齢者の「移住」の候補地として挙げられました。のちに、政府が決定した「
まち・ひと・しごと創生基本方針2015
」において、「
日本版CCRC (Continuing Care Retirement Community)構想
」の推進が盛り込まれ、高齢者の地方への「移住」は国家的な政策へと発展しつつあります。
「移住」するということは、基本的にはその人の家族以外はすべて変わることになります。家や周辺環境はもちろん、コミュニティ、仕事、学校、友人、趣味などをリセットすることになり、「移住」するには膨大なエネルギーが必要です。これを高齢者に求めていくことは、今後相当厳しいことになるでしょう。「移住」するのであれば、若くてパワーのある時期に決断したほうが良いのかもしれません。
2011年の東日本大震災以降、福岡へ「移住」してきた人がたびたびメディアに紹介されています。IT系起業者をターゲットとしたシェアオフィス「SALT」を経営しながら「福岡移住計画」を推進している株式会社スマートデザインアソシエーション代表の須賀さんもそのようなお一人です。マイプロSHOWCASE福岡編の須賀さんへのインタビュー記事によれば、「約2年の間に、「福岡移住計画」を通じて移住を考えるイベントに参加した人の延べ数は600名以上、その中から移住を決めた人は10組ほど」とのことです。この数値は、はたして氷山の一角なのでしょうか?本コラムでは、福岡市に2011年以降首都東京から「移住」してきた人の数を推定します。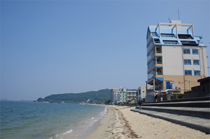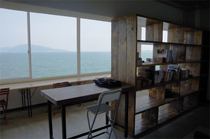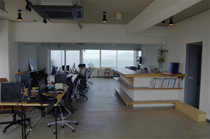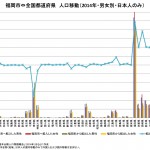 まず、福岡市で2014年に発生した日本人の人口移動(図表1)について把握します。福岡市では、1年間で市外から69,628人が転入し、市外へ62,170人が転出しました。その差は7,458人の転入超過となっています。この内訳をみると、福岡県内の福岡市外からの転入者数が最も多く、次いで九州内の県および山口県からの転入超過が多くなっています。これらには女性の転入超過数が多いことが特徴づけられます。一方、福岡市から3大都市圏へは転出超過傾向にあり、東京都への転出超過がとくに目立っています。要約すると、九州地域一帯から人口が大きく福岡市に流入しながら、東京都を主に人口が少しずつ流出しています。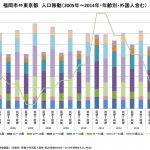 次に、東京都と福岡市の間に2005年から2014年に発生した人口移動(図表2)を年代別に見てみます。福岡市から東京都への転出超過の多さが目立つ年代は15~19歳と20~24歳であり、それぞれ大学入学と会社就職という時期と重なります。また、人数は少ないものの、55~64歳は、東京都から福岡市へ転入超過している唯一の年代であり、会社の定年退職の時期と重なります。ここからは、福岡市から多くの若者が東京都の大学や会社に入り、一部の人が定年後に帰って来るという構図が読み取れます。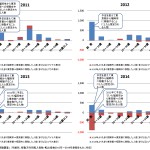 福岡市から東京都への転出超過数は、2005年以降2,000~3,000人で推移していましたが、2011年にほぼゼロとなり、2014年にかけて戻っています。東日本大震災を契機に一旦福岡市に移動した人口がここにかけて戻っているように見えます。しかし、震災前年の2010年に東京都・福岡市間で移動した人口を、年代別に2011年~2014年と比較(図表3)したところ、以下の特徴が見られました。①15歳~24歳の出入りに大きな変化なし=進学や就職に際して震災を契機とした変更はあまり認められない。②0歳~14歳および、25歳~44歳での出入りの合計値は福岡市のほうが高い=震災を契機に福岡に移動して定着した家族である可能性が高い。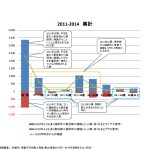 2011年~2014年の集計(図表4)によると、2010年時点と比較して2014年末時点で東京都にいるはずの約2,300人が福岡市に住んでいると考えられます。2015年に福岡市から東京都に転出する人口がさらに増える(すなわち福岡市から東京に人が戻る)可能性もありますが、一定の人口が東京都から福岡市へと「移住」したことは確かだと考えられます。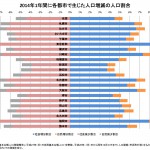 福岡市は、人口の「フロー」が多いことも事実です。東京区部と政令指定都市において、2014年の1年間に増減した人の割合を比較(図表5)したところ、福岡市は人口の約9%にあたる人が転入(市内の移動を含む)・誕生し、約8%が転出(市内の移動を含む)・死亡しました。私たちのコミュニティのおよそ一割の人が1年間で入れ替わったことになります。人口の「フロー」の多さの背景には、学生の多さがあります。毎年、多くの新入生が福岡にやってきて、多くの卒業生が福岡を去っていくからです。また、福岡市の民営事業所の半数以上を占める支社・支店に勤務する「転勤族」の入れ替わりの多さもあります。
このように、福岡市は東京を含む全国各地からの「フロー」の人口が多く、外部の人を受け入れる環境やマインドが発達していると考えられます。そのため、「フロー」の人たちがそのまま「移住」する機会も多いと考えられます。しかし、現役世代が「移住」するためには、職に就かなければなりません。「移住」者に魅力ある「雇用」を如何に提供できるかが、日本の地方都市共通の課題です。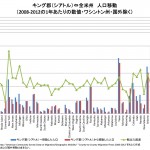 魅力ある雇用の集積が優良な人材を集積させ、優良な人材の集積が魅力ある雇用を創出する、というサイクルの生みの苦しみの段階にいま福岡市はあると思われます。世界有数の「第3極」の都市であるシアトルでは、このようなサイクルがマイクロソフトやアマゾンを中心としたテック系ビジネスによる「ビジネスエコシステム」としてすでに根付いているようです(佐藤淳氏「地方都市の活性化についてシアトルから学ぶ」に詳しい記述があります)。シアトル市および都市圏が属するキング郡(人口約200万)の人口移動(図表6)においては、全米の多くの州からキング郡への転入超過が見られます。とくに、東海岸のニューヨーク州をはじめ、首都ワシントンDCからも転入超過となっており、シアトルは多くの人材から住まい働く都市として選択されています。
顕在化しはじめた現役世代の福岡市への「移住」の動きを、今後シアトルのように一大ムーブメントへと発展させるためには、福岡市独自の「エコシステム」を構築することが求められます。「グローバル創業・雇用創出特区」の取り組みが進む福岡市は、まさにその創世期にあるといえます。
Image is for illustration purposes only. (Photos are taken in Fukuoka City)