04. "Fukuoka City as a 'Knowledge-Creating City'"

[July 22, 2015] Fukuoka Growth 2015-2016 GlobalCityStatus リレーコラム
View this post in pdf

(868KB, Japanese)
Column 04. Fukuoka City as a 'Knowledge-Creating City'
(by Makoto OKADA, Special Researcher)
The Fukuoka Asian Urban Research Center has conducted investigations and research on policy issues for creating a "Startup City" in connection with Fukuoka City's policy of the "Special Zone for Global Startups and Job Creation."
As part of these activities, we compiled the progress status of the Fukuoka Soft Research Park (SRP) Project and the situation of the clustering of the game industry in an effort to identify policy issues for creating a "Startup City" based on the evaluation of the past urban and industrial policies of Fukuoka City.
The Fukuoka SRP Project in Momochihama, Sawara-ku, Fukuoka City successfully attracted six companies and corporate groups including NEC, Hitachi, Fujitsu, former Matsushita Electric Industrial (currently Panasonic), IBM Japan, Aso, Daewoo (Korea), and former Fukuoka City Bank (currently Nishi-Nippon City Bank). With the subsequent participation of SONY, the Park became a hub of system LSI designing and software research and development. By 2012, the number of establishments in the information and communication industry in Momochihama reached 65 employing 5,707 people or 46.1% of the workers in Momochihama. The number of companies in the system LSI-related industry that have offices in Fukuoka City rose rapidly from 18 in 2000 to 136 in 2010. The Project has thus achieved significant results and created a basis for developing Fukuoka City into a knowledge-creating city that generates new value.
In the Fukuoka SRP, the Institute of Systems, Information Technologies and Nanotechnologies (ISIT) has played the role of go-between in research exchange among engineers working for information development sections of major electronics companies and between them and universities and local small and medium-sized enterprises. ISIT was founded by Fukuoka City in cooperation with Kyushu University.
ISIT initially started with three laboratories: (1) Laboratory 1 (system LSI design technology); (2) Laboratory 2 (software design technology and internet technology); and (3) Laboratory 3 (robot technology and human interface technology). Subsequently, ISIT expanded its research areas with the creation of (4) a nanotechnology research laboratory and (5) an organic photo device research laboratory. Furthermore, it is considered that ISIT has contributed to the establishment of facilities such as the Fukuoka Institute of System LSI Design Industry which are related to "Fukuoka IST," a core facility in the "Silicon Sea Belt Fukuoka Project" launched by Fukuoka Prefecture and Kyushu University.
There is a local company that has improved its R&D capabilities and has transformed itself into an advanced technology company while participating in the research and development projects of ISIT and the Fukuoka Institute of System LSI Design Industry.
It is Logical Product Corporation in Minami-ku, Fukuoka City (23 employees).
The company was founded in 1994 as an electronic device design company. Its main business was to design electronic devices, in particular wireless devices, on commission. However, it had a strong desire to manufacture its own products in order to stabilize and grow its business. The company proposed and implemented a project on the "development of ultra-miniature measurement device for actual strain history and its application to the remote fatigue diagnosis of building structures," as a competitive funding project for fiscal year 2000 (tendered by the Organization for Small & Medium Enterprises and Regional Innovation, Japan), together with ISIT, Kyushu University and one other company. In 2004, the company participated as a research cooperation company in the "development of LSIs for mobile systems with ultra-low energy consumption," which is an intellectual cluster creation project. Furthermore, it participated in a strategic creative research promotion project in 2006, the 2nd intellectual cluster creation project in 2007, and a regional innovation creation research and development project in 2008.
9-axis wireless motion sensor: This product has versatile applications ranging from motion measurement to robots, human engineering, virtual reality and rehabilitation.
In 2006, Logical Product developed a small wireless module in the "development and application of wireless communication modules with low power consumption for robots," which was part of a project to strengthen technological capabilities for the development of robots sponsored by the Robotics Industry Development Council. The product developed was a wireless module used for robots. The module which was developed jointly with ISIT, Fukuoka Institute of Technology, and others, rectified the inconvenience posed by noise-susceptible traditional wireless modules.
This "small wireless module" caught the attention of the Japan Sport Council, and it was combined with a sensor and used for the training of the hammer thrower, Koji Murofushi. The company subsequently made many improvements and launched its original product, "9-axis wireless motion sensor," in 2009.
With development support from the Robotics Industry Development Council, Logical Product conducted joint research with ISIT and made improvements to wireless motion sensors used for biomedical measurement of, for instance, myoelectric activity and heartbeat, and a system that analyses and displays sensor information. As a result, the company's wireless motion sensor system has been used in a wide range of sport. It is currently used by universities in almost every prefecture in Japan. The product is sold only in Japan as providing maintenance service overseas is difficult. The list of the company's clients includes universities throughout Japan including the University of Tokyo. Almost half of the company's sales come from these in-house products.
Furthermore, demand for this product that uses a sensor to wirelessly measure the status of spinning or vibrating devices is expanding to industry. The company was also involved in the production by the Fukuoka Institute of Technology of a small satellite (nicknamed Niwaka) which was released from the International Space Station in October 2012. Logical Product is playing an active role as a local advanced technology company.
I hope that more and more local advanced technology companies follow the example of Logical Product, by making full use of Fukuoka City's functions as a knowledge-creating city.
04. 「9軸ワイヤレスモーションセンサ」を開発した地場企業の活躍

福岡市の「知識創造都市」としての一面
✔ソフトウェア研究開発拠点百道浜地区の情報通信業従業者割合は46.1%
✔世界レベルの技術を誇る福岡の先端技術企業「株式会社ロジカルプロダクト」
当研究所では、福岡市の「グローバル創業・雇用創出特区」政策にも絡む
「スタートアップ都市」づくりに向けた政策課題について調査・研究
を実施してきました。
その中で、これまでの福岡市の都市・産業政策の評価を踏まえて「スタートアップ都市」づくりの政策課題を抽出しようと、福岡ソフトリサーチパーク事業の充実過程やゲーム産業等の集積動向などをまとめました。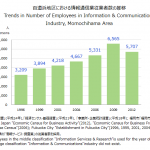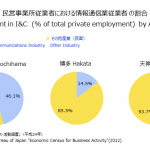 福岡市早良区百道浜における福岡ソフトリサーチパーク事業は、NEC、日立製作所、富士通、旧松下電器産業(現パナソニック)、日本IBM、麻生、韓国の大宇、旧福岡シティ銀行(現西日本シティ銀行)の6社・グループの誘致に成功し、後に(株)ソニーが加わったことでシステムLSI設計あるいはソフトウェアの研究開発拠点となり、2012年の百道浜エリアの情報通信業の事業所数は65事業所、従業者数は5,707人、割合は46.1%に及びます。システムLSI関連産業の福岡市内立地件数は、2000年の18社から、2010年の136社へと急増するなど大きな成果を上げるとともに、福岡市が新しい価値を創り出す知識創造都市としての成長基盤を創り出しました。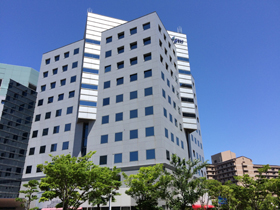 福岡ソフトリサーチパークで、大手電機メーカーの情報開発部門技術者間および大学等との研究交流、さらには地場中小企業との研究交流の仲介役を果たしたのが、九州大学の協力の下で福岡市が設立した(公財)九州先端科学技術研究所(略称ISIT、旧(財)九州システム情報技術研究所)です。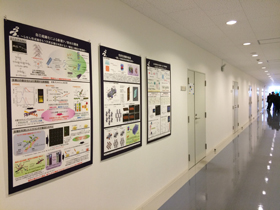 ISITは、当初、①第一研究室(システムLSI設計技術)、②第二研究室(ソフトウェア設計技術及びインターネット技術)、③第三研究室(ロボット技術及びヒューマンインタフェース技術)の3研究室でスタートしましたが、その後、④ナノテク研究室や⑤有機光デバイス研究室を設置し、拡充されています。さらに、福岡県と九州大学による「シリコンシーベルト福岡」プロジェクトの中核施設である「ふくおかIST」の(公財)福岡システムLSI総合開発センター等関連施設の福岡ソフトリサーチパークへの立地にも寄与したものと考えられます。
ところで、そのISITや(公財)福岡システムLSI総合開発センターの開発研究プロジェクトに参加しながら、研究開発力を向上させ、先端技術企業へ転換を果たした地場企業があります。
それは、福岡市南区に所在する(株)ロジカルプロダクト社(従業者数23人)です。
1994年に電子機器設計会社として創業した同社は、電子機器設計、特に無線関係の受託業務が中心で、経営の安定と成長のためにも自社製品を持ちたいとの強い意向を持っており、2000年度の競争的資金プロジェクト(公募元:中小企業総合事業団)「超小型実働ひずみ履歴計測装置の開発…」をISIT、九州大学、他企業1社と共同で提案・実施しました。2004年には、知的クラスター創成事業の「超低消費エネルギー化モバイル用システムLSIの開発」への研究協力企業として参加し、さらに、2006年にも戦略的創造研究推進事業、翌年に知的クラスター創成事業(第2期)、2008年には地域イノベーション創出研究開発事業に参加しています。
この間の2006年には、ロボット産業振興会議のロボット開発技術力強化事業「ロボット用低消費電力無線通信モジュールの開発と応用」で小型無線モジュールを開発しています。これは、ロボット用の無線モジュールで、それまで有線でコントロールしていた「ロボットコンテスト」などがワイヤレスでできるようになっていたものが、ノイズに弱く不便であったため、新たにISITや福岡工業大学等と共同で開発したものです。
この「小型無線モジュール」が、国立スポーツ科学センターの目に留まり、センサーと組み合わせてハンマー投げの室伏広治選手のトレーニングに用いられたのを契機に、改良を重ね2009年に「9軸ワイヤレスモーションセンサ」という自社製品を発売しました。
さらにISITとの共同研究で、ロボット産業振興会議の開発支援を得て、筋電・心拍等の生体計測用ワイヤレスモーションセンサやセンサー情報を解析して表示するシステムを改良することで種々のスポーツに使われるようになり、現在では、ほぼ全国の大学で使用される状況となっています。なお、海外ではメンテナンスが難しいため、販売は国内に限られているそうです。同社の会社概要の取引先には、東京大学をはじめ全国の大学名が挙げられています。同社の売上高のほぼ半分がこれら自社製品から得られているそうです。
さらに、回転や振動している機器の状態をセンサーで計測し、無線でキャッチする同製品の需要は産業用にも広がりつつあります。また、2012年10月に国際宇宙ステーションから放出された福岡工業大学の小型衛星(愛称:にわか衛星)の製作にも関わるなど、地場の先端技術企業として活躍しています。
福岡市の知識創造都市機能をフル活用し、(株)ロジカルプロダクト社に続く、先端技術型地場企業が次々と生まれることを期待したいと思います。
Image is for illustration purposes, excluding the product photos provided by the Logical Product Corporation. (Photos are taken in Fukuoka City)