Fukuoka Growth 17 Going Forward
Fukuoka Growth [Growth Potential of Fukuoka City]
17 Going Forward (17/03/2014 Version 1.0)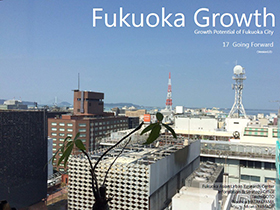 Download English

(pdf/1.21MB)
Last words from the editor
Fukuoka is determined to grow in a sustainable way in the rapidly changing world.
•There have been many positives news in Japan and Kyushu, such that: Mt. Fuji named World Heritage site; Tokyo was chosen to host the 2020 Olympic and Paralympics Games, and; "Seven Stars in Kyushu" cruise train started operation.
•On the other hand, there have been increasing uncertainty such as; political instability in East Asia, Middle East or Central Asia; frequent natural disasters, and; uncertain prospect in national and global economy.
•Fukuoka City, whose population exceeded 1.5 million, has steadily moved ahead toward sustainable growth by; adopting the new Master Plan; being designated as a "Global MICE Strategic City" by the National Tourism Agency, and; applying for the "National Strategic Economic Growth Areas."
More important becomes communication based upon regular monitoring of the city.
•As changes in society have been increasingly faster and larger, growth strategy of a city should be frequently revised based upon regular assessment of its progress.
•Monitoring of a city has therefore become more important, as a base for policy communication among a variety of stakeholders of Fukuoka.
"Fukuoka Facts" is a good tool for such communication.
•"Fukuoka Facts – Data about the Best of Fukuoka –" http://facts.city.fukuoka.lg.jp/en/
•"Fukuoka Growth" has provided integral contents for the "Fukuoka Facts", while creative communication designers have provided excellent user interface.
•"Fukuoka Facts" was honorably received the Microsoft Japan Award by the "Open Data Distribution Promotion Consortium" as an excellent initiative of city sales through utilizing public statistic data.
This 17th edition of "Fukuoka Growth" is the final number.
•"Fukuoka Growth" has been published since June 2013 at approximately every two weeks, aiming to help the region clearly position itself on the global map.
•We are very grateful for our readers and contributors.
•We would appreciate your continuing interest in Fukuoka and support for the Fukuoka Asian Urban Research Center.
•From April, we are going to publish and provide the information in an improved format regularly.
"'Fukuoka Growth' book" is going to be published.
•We are going to publish a book containing reedited and rearranged contents of "Fukuoka Growth" we have published. It points out growth potential of Fukuoka City with data, and will be written in both Japanese and English.
•We hope the book will help introducing charms and growth potential of Fukuoka City as a tool of city sales to other cities in Japan and in the world.
•The detail about the publishing book will be announced on our website shortly.
March 17, 2014
Taichi GOTO
Head of Information and Strategy Office
Fukuoka Asian Urban Research Center