08. "Transforming FUKUOKA into an Internationally-Renowned City Centered on the Game Industry"

[October 14, 2015] Fukuoka Growth 2015-2016 GlobalCityStatus リレーコラム
View this post in pdf

(795KB, Japanese)
Column 08. Transforming FUKUOKA into an Internationally-Renowned City Centered on the Game Industry
(by Taichi HAYASHIDA, Chief of the General Affairs Section)
Do you all like games?
I remember that when I was an elementary school student, I convinced my parents to buy a game system if I promised to be sure to finish my homework before playing games.
The Computer Entertainment Supplier's Association presents the Japan Game Awards to honor outstanding computer entertainment software, and the 2015 Japan Game Awards were announced in September of this year. One game software company has won the grand prize, the greatest honor, two consecutive years, and that company is Level 5 Inc., which has its head offices in Fukuoka City. In addition to Level 5, the city is the home to numerous other famous game software production companies.
According to Fukuoka Growth, which is published by the Fukuoka Asian Urban Research Center, in 2012, there were 2,341 businesses in creative industries such as digital content development (game software, etc.), fashion, and design in Fukuoka City, and these businesses account for 3.4% of all businesses in Fukuoka City. The city is ranked fourth among other major Japanese cities in terms of the percent of businesses in creative industries. Furthermore, according to the Ministry of Economy, Trade and Industry's Survey of Selected Service Industries (2008), Fukuoka City has the fourth largest number of game software development companies of cities in Japan. Because of these facts, one can argue that Fukuoka is a major cluster of the game industry.
Well, why did the game industry concentrate in Fukuoka?
One of the major reasons was probably because of unified efforts by industry, academia, and the government to promote the industry. The impetus for these efforts was GAME FACTORY FUKUOKA 2003, which was hosted by Level 5, CyberConnect2, and Ganbarion, all of which have their headquarters in Fukuoka City, in 2003.
In 2004, game production companies in Fukuoka and Kyushu created a partnership and founded the Game Factories Friendship (GFF), a voluntary organization whose purpose is to transform Fukuoka and Kyushu into a global development hub for the game industry and digital content industry. In 2005, Kyushu University and GFF concluded an academia-industry cooperation agreement regarding game research and development, and then in 2006, GFF, Kyushu University, and Fukuoka City established the Fukuoka Gemu Sangyo Shinko Kiko (Fukuoka Game Industry Promotion Organization), the first industry-academia-government collaboration in Japan. Support was also provided by Fukuoka Prefecture and the Ministry of Economy, Trade and Industry's Kyushu Bureau of Economy, Trade and Industry, and efforts to promote the game industry in Fukuoka moved forward.
According to Gemu Sangyo Shinko Kiko, eleven companies that are full GFF members are also Fukuoka Game Promotion Organization members as of October 2015, and it appears that there are about thirty game software companies, including GFF full members, located in Fukuoka.
Other reasons that the game industry clustered in Fukuoka can be found in the Seikatsu Kankyo Hen (Life Environment Guide) and Bijinesu Kankyo Hen (Business Environment Guide), both of which are compiled by the Fukuoka Game Industry Promotion Organization.
For the Seikatsu Kankyo Hen, a survey of employees working at game industry related companies in Fukuoka is conducted. When asked about the good points of Fukuoka, one-third of respondents said "its delicious food." Many respondents also selected "easy commute," "proximity to nature," and "convenience of transportation." For 60% of respondents, their commute is less than thirty minutes, and for more than 60% of respondents, they mainly commute by bicycle or on foot. It can be argued that this shows that Fukuoka's ease of living is appropriate for the creative work.
In the Bijinesu Kankyo Hen, responses include "good access to major cities in Japan and other Asian countries from Fukuoka Airport," "easy access to the center of Fukuoka (Tenjin) from the airport," "reasonable office rents," and "ability to secure diverse, talented human resources." It truly appears that it can also be said that the distinctive aspects and strengths of Fukuoka led to the formation of the game industry cluster.
I would like to give one more major factor why an industrial cluster formed in Fukuoka, and that is the passion of workers in the game industry. The motto of the Fukuoka Game Industry Promotion Organization is "transforming Fukuoka Kyushu into an internationally-renowned city centered on the game industry" and this is probably truly a sign of that of passion.
This year, Akihiro Hino, the president of Level 5 and a game creator, was selected for the Fukuoka City Culture Prize, which is awarded to individuals and groups that contribute to the development of culture in Fukuoka City.
Industry-academia-government cooperation, an environment appropriate for creative businesses, and passion. I hope that Fukuoka develops into the Hollywood of games, no, a game city that draws the attention of the world, a culture that Fukuoka City can take pride in.
08. 世界が目指すゲーム産業都市FUKUOKAへ

~産学官連携と都市の魅力を武器に~
✔戦略的な産学官連携により福岡はゲーム産業の一大集積地に成長
✔福岡の住みやすさがクリエイティブな人材を魅了

テキスト:総務課主査 林田太一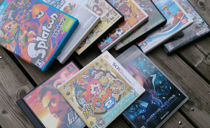 みなさん、ゲームは好きですか?
私自身、小学生の時、ゲームをする前に宿題を必ず終わらせることを条件に、両親を説得し、家庭用ゲーム機を手に入れた覚えがあります。
さて、今年9月に発表された、一般社団法人コンピュータエンターテイメント協会主催による、優秀なコンピュータエンターテイメントソフトウェアを表彰する、「日本ゲーム大賞2015」において、最も栄誉ある"大賞"を2年連続で受賞したゲームソフト制作会社があります。福岡市に本社を構える株式会社レベルファイブです。福岡市には、レベルファイブの他にも有名なゲームソフト制作会社が多数あります。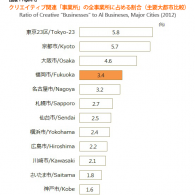 当研究所発行のFukuoka Growthによると、福岡市内におけるゲーム産業をはじめとするデジタルコンテンツ、ファッション、デザインといったクリエイティブ関連産業事業所数は、2012年時点で2,341事業所あり、福岡市の全事業所に占める割合は3.4%です。全国の主要大都市比較でみても、福岡市におけるクリエイティブ関連産業事業所の占める割合は第4位の高さです(詳しくはFukuoka Growth 集約版(2013-2014)(pdf/5.08MB)P.63)。また、経産省「特定サービス産業実態調査(2008年)」によると、福岡市のゲームソフト関連事業所数も同様に全国第4位となっています。こうした状況から、福岡はゲーム産業の一大集積地であるといえます。
では、なぜ福岡にゲーム産業の集積が起こったのでしょうか。
その要因の一つとして、産・学・官の三者が産業振興のため一体となって取り組んでいることにあると思います。きっかけは、2003年、(株)レベルファイブ・(株)サイバーコネクトツー・(株)ガンバリオンの3社(3社とも福岡市内に本社がある。)によるゲームイベント「GAME FACTORY FUKUOKA 2003」の開催です。
2004年には、九州・福岡のゲーム制作関連会社がパートナーシップを結び、九州・福岡をゲーム産業・デジタルコンテンツ産業の世界的開発拠点とすることを目的に任意団体GFF(ゲーム・ファクトリーズ・フレンドシップ)が設立されました。2005年には九州大学とGFFがゲームの研究開発に関する産学連携協定を締結し、2006年には、GFF・九州大学・福岡市による、全国でも初めての産学官連携による「福岡ゲーム産業振興機構」が誕生。福岡県や経済産業省九州経済産業局からの支援もあり、福岡におけるゲーム産業の振興が進められたのです。
福岡ゲーム産業振興機構の話では、同機構のメンバーであるGFFの正会員は11社(2015年10月時点)で、GFFの正会員を含めた福岡市内のゲームソフト制作会社は、現在約30社に上るそうです。
また、福岡にゲーム産業の集積が進んだもう一つの要因として、「福岡ゲーム産業振興機構」がまとめている、福岡がゲーム都市になりうる理由「生活環境編」と「ビジネス環境編」をあげたいと思います。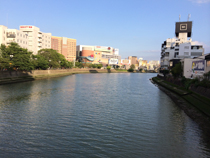 「生活環境編」では、福岡のゲーム産業関連企業に勤務する方へアンケートが行われています。ここでは、福岡の良いところとして、3分の1の人が食べ物がおいしいことをあげました。また、多くの人が通勤が楽、自然が近い、交通の便がいいことなどをあげ、平均通勤時間も6割以上が30分未満、主な通勤手段は徒歩や自転車が6割という結果が出ています。これは福岡の住みやすさがクリエイティブな仕事に適していることを示していると言えます。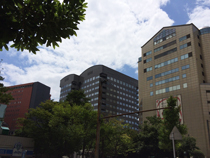 「ビジネス環境編」では、国内主要都市やアジア各主要都市への福岡空港のアクセスの良さや、空港から福岡の中心地(天神)への交通利便性の高さ、リーズナブルなオフィス賃料、多様・優秀な人材の確保が可能なことがあげられています。まさに、福岡の特徴、福岡の優位性が、ゲーム産業の集積を引き起こしたと言えそうです。

最後にもう一つ、福岡に産業集積が進んだ大きな要因として、ゲーム産業に携わる方の情熱をあげたいと思います。「福岡ゲーム産業振興機構」が掲げる合言葉、「九州・福岡を世界が目指すゲーム産業都市にする。」まさにこれにあらわれているのではないでしょうか。
福岡市の文化の発展に貢献した個人や団体を表彰する福岡市文化賞に、今年度は、「レベルファイブ」社長でゲームクリエイターの日野晃博さんが選ばれました。(福岡市市長会見平成27年10月6日)
産学官の連携、クリエイティブなビジネスに適した環境、そして情熱。福岡市の誇る文化として、福岡がゲームのハリウッドに、いやいや、世界から注目されるゲームのFUKUOKAに発展することを期待しています。
Image is for illustration purposes only. (Photos are taken in Fukuoka City)